Penny's Restaurant, where our local chef creates a modern Australian cuisine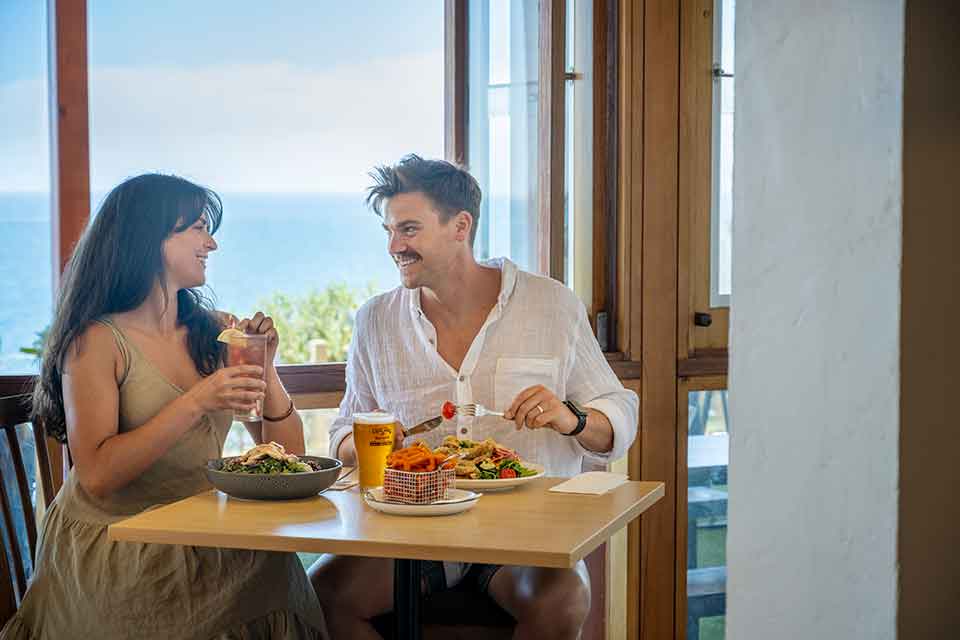 WE ARE BACK
Open Lunch 12-2:30pm and Dinner 5:30-8:30pm 7 Days
There are some limitations due to COVID restrictions, so please consider this and book in advance online.so please call ahead to avoid disappointment 8553 1042 or book online Penneshaw Hotel
"Is Penneshaw Hotel the only hotel in the world where you can have a beer and look at Australia?"
The Penneshaw hotel has commanding and uninterrupted views over Backstairs Passage with absolute water frontage from a cliff-top and now the newly completed spacious tiered outdoor dining and bar area offers unsurpassed opportunities to enjoy this view. The hotel is making the most of its prime position with major internal and external renovations. Glass walls at the front of the outdoor area and large windows opening to the sea air capture the light and view for all diners in all weather.
Penny's Restaurant is definitely a cut above that – of course there is a schnitzel on the menu, but the Chef's create a modern Australian cuisine using as much local produce as possible to produce a wonderful menu. The rustic charms of the renovated bar and dining areas are the perfect place to while away a Sunday afternoon or wait for your ferry to the mainland in the friendly, comfortable atmosphere.
The bottle shop adjoins the hotel, where you can select from a huge range of beers, spirits and wines. There is a large range of local K.I Wines to taste and select.
" A country pub that looks and feels just like a country pub should, this place has a relaxed vibe and classic pub grub menu - with an emphasis on fresh local seafood. The view is one of the best things about the place, as you can literally sit back and take in Australia (well, South Australia little stretch of mainland anyway) from your table. After dinner, a game of billards in the games room and a drink in the renovated front bar are in order "
Contact Details:
Ph: 08 8553 1042 E: admin@penneshawhotel.com.au
North Terrace, Penneshaw, SA 5222
Bottleshop 10am til late daily
Bar: 11am til late open daily

General Booking Enquires about Accommodation, KI Seafront Holiday Park, Sorrento's Pizzeria and Penneshaw Hotel can be made by filling out the form below. We will reply to you as soon as possible with an answer to your query. We can also help with your travel arrangements to and from Kangaroo Island.